When houses are decked out in spooky decorations, and families are stuffing their grocery bags with candy, Halloween is around the corner. The holiday is widely celebrated and is observed in different ways. One of the most universal experiences of every child is wearing their favorite costume with their jack-o-lantern goody bag going house-to-house on Halloween night. Most of the time, adults are in the background handing out candies or going around the neighborhood with their kids. As university students, we may have passed the age of trick-or-treating and knocking around doors asking for candy. On average, students dress up with their friends to attend Halloween house parties or clubbing. If that's not your cup of tea or you're tired of the same party scene, here are a few fun-filled ideas to participate in this year's spooky season.
A Scary Movie Night
Whether you want to have the night to yourself or spend it with some friends, you can never go wrong with a movie night. Here are some suggestions of film classics to watch: Coraline (2009), The Nightmare Before Christmas (1993), E.T. the Extra-Terrestrial (1982), and Sleepy Hollow (1999). But if you are looking to be brave this Halloween night, have no fear and stream some highly recommended horror movies: Talk to Me (2023), The Nun II (2023), Attachment (2022), and Huesera: The Bone Woman (2022).
Bake the Night Away
One of the best things about Halloween is the treats. There is no need to ask strangers for candy when you can bake spooky-themed cupcakes and cookies in the comfort of your home. You can spend the night decorating the baked goods with frosting and edible googly eyes. If you decide to invite people over, a fun competition on who made the best Halloween-themed treat can make the night even more exciting. Another traditional treat for the holiday is a good ol' pumpkin pie. With a little bit of planning, you can hold a baking showdown.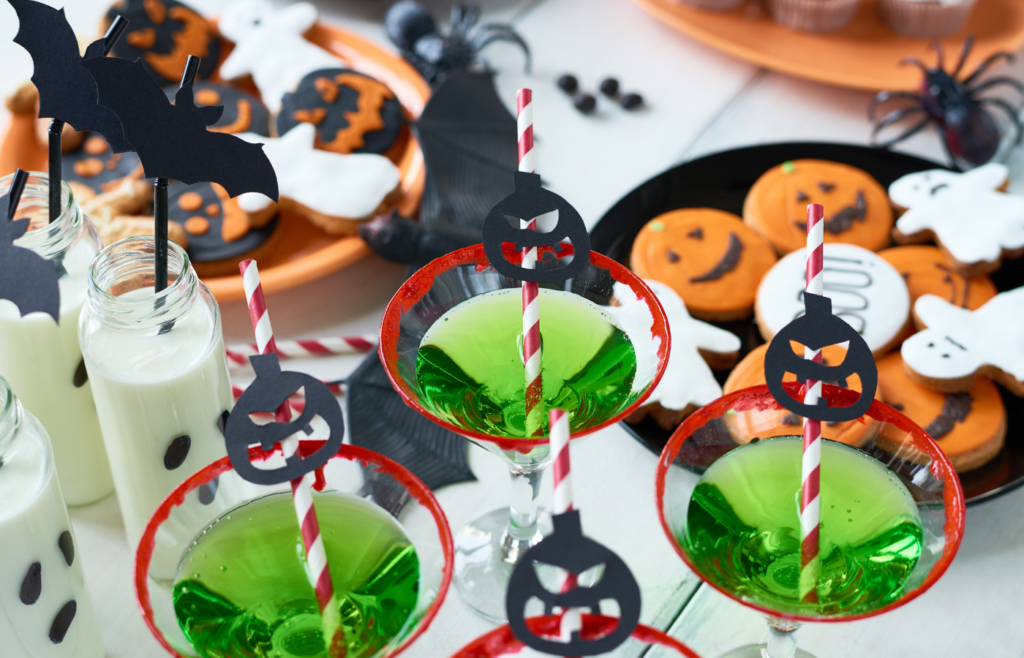 Game Night & Pumpkin Carving
Having people over for a game night is a great way to bond and get to know each other better. The activities can range from low-effort to high-effort preparation depending on the resources, time, and vibe you are going for. Pumpkin carving is probably the signature activity for Halloween. With a few friends, you can give each other a time limit to carve the best pumpkin. You can even split up into groups to make it a team effort. Some low-effort games could be donut-on-a-string, charades, mummy wrap, or drinking games.
Potluck Dinner or Cocktail Evening
One way to host dinners at your place would be to jump on the TikTok trend and tell your friends to bring a dish that starts with the first letter of their name. By doing so, the responsibility of cooking and preparing food is not solely placed on the host. It's also a great way to get everyone involved. If you're not into the dinner idea, making spooky-themed cocktails might be right up your alley. Each person can make a cocktail of their choice and decorate it with the spirit of Halloween. Everyone can taste each other's creations, drinking and dancing the night away.
Whether or not Halloween is your favorite holiday, it is the perfect opportunity to do something fun! It may not mean trick-or-treating in the neighborhood or partying at a club, but a wholesome night with your friends or a self-care evening with yourself can be just as fun. Take the following ideas for a spin and see if you can organize a fun Halloween night in the comfort of your home.
Roselle Torres
If you found the article interesting, I also recommend this: